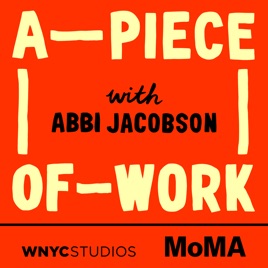 A Piece of Work is everything you want to know about modern and contemporary art but were afraid to ask. Hosted by Broad City's Abbi Jacobson, this 10-episode series explores everything from Pop Art to performance in lively conversations with curators, artists and Abbi's friends, including Hannibal Buress, Tavi Gevinson, RuPaul and Questlove. WNYC Studios is a listener-supported producer of other leading podcasts including Radiolab, Snap Judgment, Death, Sex & Money, On the Media, Nancy and many others.
© WNYC Studios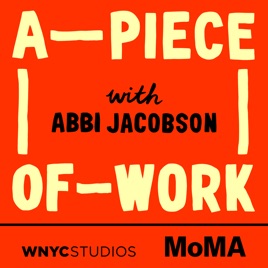 A Piece of Work is everything you want to know about modern and contemporary art but were afraid to ask. Hosted by Broad City's Abbi Jacobson, this 10-episode series explores everything from Pop Art to performance in lively conversations with curators, artists and Abbi's friends, including Hannibal Buress, Tavi Gevinson, RuPaul and Questlove. WNYC Studios is a listener-supported producer of other leading podcasts including Radiolab, Snap Judgment, Death, Sex & Money, On the Media, Nancy and many others.
© WNYC Studios
Love it
Abbi Jacobson can do no wrong. She is approachable, hilarious, engaging, curious. She so adeptly invites her listeners to feel comfortable tackling conversations about sometimes obscure art. I love it!
Best Podcast Ever
Smartest and most-fun listening experience. Educational, funny, interesting, mind-expanding. Perfect podcast length. More like this! Thank you.
Yeah Abbi!!
Cheeky, fun, creative. Wish there was more!