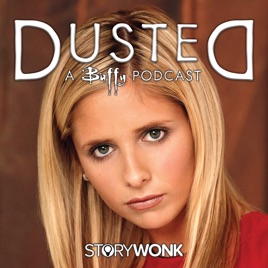 Dusted is a Buffy the Vampire Slayer podcast.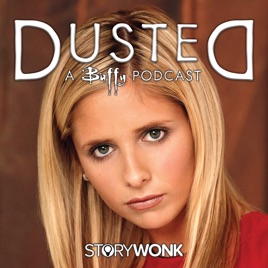 Dusted is a Buffy the Vampire Slayer podcast.
4.5 stars for one host, 1.5 for the other, & deduction for missteps off mic.
This is what happens when you put a knowledgeable person into a show with someone who needs to control things. It's not that the podcast is bad. It mostly isn't. But it can be cringy as hell, and the rough spots have a relentless drag on the good parts. I made it through two seasons and was pretty sure the pod itself wouldn't make it through seven. I was right about that.
Annoying
I really wanted to like this because I love Buffy and I love Lani and I love literary analysis. But the male podcaster is really annoying. He sounds like he is coked up or unmedicated ADHD. He repeats himself and hammers home a point while talking in circles. I only listened to the first two episodes, so maybe he improves, but I couldn't handle it.
Struggled through the first five episodes
I turned to my coworker yesterday and asked, "How many episodes do you give a podcast before giving up on it?" I was on the second episode of Dusted when I asked that question, though I had downloaded the first five. I wanted to give it a fair chance, as I listen to a lot of podcasts, and I know it can take a minute to find a good rhythm. In that vein, I did listen to all five of the episodes I downloaded, though I sped it up to make it through by the third episode. I really wanted to like Dusted as I LOVE BTVS, but I just couldn't get into it. There's something off about the interactions of the hosts, though they're apparently married and have at least one teenage daughter (per the content of their discussions). I found myself wishing I could just listen to Lani without Alistair as he can be pedantically mansplainy in a way that makes me cringe. There are times when he provides interesting insight, but I more often found myself questioning how he managed to make a particular interpretation of something that had happened in a particular episode. It was also off-putting on the occasions when he seemed taken aback or surprised by Lani's commentary, almost as if shocked she could have come up with something insightful or with deeper implications than his own analysis. I also didn't particularly enjoy the way they attempt to condense multiple series episodes into one podcast episode; there is more than enough fodder in a single Buffy episode to warrant a dedicated podcast episode. Overall, this was a pass for me. Irrelevant, perhaps, as it seems to have been discontinued, but a heads up nonetheless.